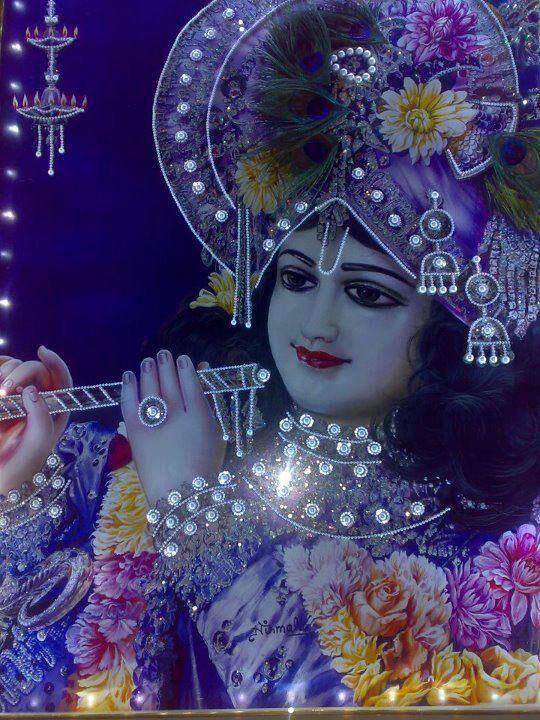 Lord Kṛṣṇa is the background of the brahmajyoti (brahmaṇo hi pratiṣṭhāham). ... Thisbrahmajyoti is all-pervading, and all creation is made possible by its ... vedabase.net/sb/2/5/11/
===Sri Isopanisad Verse 15===
Therefore Krishna is the source of the brahmajyoti as well as the all-pervading ... Thisbrahmajyoti is but the personal rays of the Supreme Personality of ... vedabase.net/iso/15/en3 - Cached
Lord Krishna is the background of the brahmajyoti (brahmano hi pratishthaham). ... So thebrahmajyoti is not independent or self-sufficient. ... vedabase.net/sb/2/5/11/en1
The brahmajyoti, which is greatly appreciated by jñānīs, ... (Brahma-saḿhitā 5.40) Thebrahmajyoti is the beginning of the spiritual world, and beyond the ... vedabase.net/sb/9/11/19/
===Sri Isopanisad Verse 16===
Until one surpasses the glare of the brahmajyoti, one cannot receive information ... By realizing the impersonal brahmajyoti, one experiences the auspicious ... vedabase.net/iso/16/ - Cached
He expands Himself as Paramatma in everyone's heart by His inconceivable energy, and He also expands Himself as the glowing effulgence of brahmajyoti by ... vedabase.net/sb/1/9/42/en1
Similarly, brahmajyoti, the spiritual effulgence, is a reflection of the body of ... Thebrahmajyoti, or Brahman effulgence, is due to His bodily luster. ... vedabase.net/sb/3/26/3/ - Cached Srimad Bhagavatam Canto 2 Chapter 3 Verse 10
It is He only who can award liberation to the impersonalists by absorbing such aspirants in thebrahmajyoti, the bodily rays of the Lord. ...
vedabase.net/sb/2/3/10/en1 - Cached
===Nectar of Devotion===
Those who are impersonalists can merge into the sunshinelike brahmajyoti, whereas those who are in love with the Supreme Person enter into the supreme abode ... vedabase.net/nod/15/en
The entire material manifestation floats within the rays of this brahmajyoti. Just as all life on earth is a transformation of the all-pervading rays of the ... vedabase.net/sb/11/2/41/
Beyond that brahmajyoti there is the Supreme Personality of Godhead. In the Upaniṣads a devotee prays to the Lord to kindly put aside the effulgence, ... vedabase.net/sb/3/25/19/
Even the brahmajyoti, which is the ultimate goal of the impersonalists, ... There are no spiritual diversities in the brahmajyoti as there are in the ... vedabase.net/bg/7/4/en1 - Cached
But we should know well that all the above-mentioned living entities killed would attain salvation either by being merged in the brahmajyoti of the Lord or ... vedabase.net/sb/2/7/34-35/en1
===Sri Isopanisad Verse 17===
As we have learned from previous mantras, the brahmajyoti emanating from the ... Becoming one with the brahmajyoti does not represent mature knowledge. ... vedabase.net/iso/17/ - Cached
For the impersonalist the ultimate goal or destination is the brahmajyoti of the spiritual sky, but for the devotees the ultimate goal is the Vaikuṇṭha ... vedabase.net/sb/2/2/17/ - Cached
People are very anxious to understand the Absolute Truth in various ways, especially by experiencing the brahmajyoti, or Brahman effulgence, by meditation ... vedabase.net/sb/3/24/39/
The impersonal brahmajyoti is also called the paraḿ padam due to its being the rays of the Vaikuṇṭha planets, as the sun rays are the rays of the sun. ... vedabase.net/sb/2/2/18/
Following the Sudarsana disc, the chariot went beyond the darkness and reached the endless spiritual light of the all pervasive brahma-jyoti. ... vedabase.net/sb/10/89/51/en1
brahmaṇaḥ — of the impersonal brahmajyoti; hi — certainly; pratiṣṭhā — the rest; aham — I am; amṛtasya — of the immortal; avyayasya — of the imperishable; ... vedabase.net/bg/14/27/ - Cached
The Lord is spiritual, and the rays of His transcendental body are called brahmajyoti, His spiritual effulgence. Everything that exists is situated in that ... vedabase.net/bg/4/24/ - Cached
Similarly, each of the infinite planets, although unlimited in length and breadth, lies in a corner of the spiritual sky known as the brahmajyoti. ... vedabase.net/tlc/9/en1 - Cached - Similar
Impersonal brahmajyoti or localized Paramatma realization is not perfect knowledge of the Absolute Truth, because it is partial. ... vedabase.net/bg/7/1/en2 - Cached
Similarly, the spiritual effulgence (brahmajyoti), impersonal Brahman, ... In that brahmajyotithere are innumerable universes, and each is filled with ...
.vedabase.net/tlc/5/en - Cached
===Sri Isopanisad Verse 15===
In the Bhagavad-gītā (14.27), the Lord explains His personal rays (brahmajyoti), the dazzling effulgence of His personal form, in this way: ... vedabase.net/iso/15/ - Cached
Following the Sudarśana disc, the chariot went beyond the darkness and reached the endless spiritual light of the all pervasive brahma-jyoti. ... vedabase.net/sb/10/89/51/en3
===Sri Isopanisad Verse 16===
The brahmajyoti is described in the Brahma-samhita as the rays emanating from that ... Until one surpasses the glare of the brahmajyoti, one cannot receive ... vedabase.net/iso/16/en2 - Cached
===Sri Isopanisad Verse 16===
The brahmajyoti is described in the Brahma-samhitā as the rays emanating from that ... Until one surpasses the glare of the brahmajyoti, one cannot receive ... vedabase.net/iso/16/en3 - Cached
===Sanskrit: jyotih===
ātma-jyotiḥ — the rays of His bodily luster, known as the brahmajyoti; SB 9.11. 19 jyotiḥ — the brahmajyoti, the effulgence of the Supreme Lord; SB 9.18.5 ... vedabase.net/j/jyotih - Cached - Similar
The brahmajyoti, which is greatly appreciated by jnanis, ... (Brahma-samhita 5.40) Thebrahmajyoti is the beginning of the spiritual world, and beyond the ... vedabase.net/sb/9/11/19/en2 - Cached
The brahmajyoti is actually the effulgence of the Supreme Personality of Godhead . ... not need to take care of the impersonalists who enter the brahmajyoti. ... vedabase.net/sb/8/7/31/en - Cached
SB 10.89.51: Following the Sudarśana disc, the chariot went beyond the darkness and reached the endless spiritual light of the all pervasive brahma-jyoti. ... vedabase.net/sb/10/89/en - Cached
===Sri Isopanisad Verse 12===
Outside the universe is the vast and unlimited brahmajyoti expansion, which is filled ... The biggest and highest planet in the brahmajyoti is Kṛṣṇaloka, ... vedabase.net/iso/12/ - Cached
The impersonalists, who take much trouble in penance and austerity for self- liberation, may approach the impersonal brahmajyoti, but ultimately, because of ... vedabase.net/sb/3/9/10/
Therefore Śiśupāla achieved oneness with the Lord by merging in the impersonal glare of His body, called the brahmajyoti. Others, who were in the marginal ... vedabase.net/sb/3/2/20/
===Teachings of Queen Kunti===
... becomes a saint and merges into the supreme impersonal effulgence, the brahmajyoti. The brahmajyoti is one of three features of the Absolute Truth. ... vedabase.net/tqk/11/en1 - Cached
The impersonal brahmajyoti is only the glaring effulgence of the body of the Lord, and there is no difference in quality between the body of the Lord and ... vedabase.net/sb/2/7/26/
The nondevotee impersonalists imagine the material forms of the Lord, and ultimately they merge in the impersonal brahmajyoti of the Lord, whereas the pure ... vedabase.net/sb/2/10/35/
Actually the impersonalists do not merge into the existence of the Supreme Person but into His personal bodily luster, which is called the brahmajyoti. ... vedabase.net/sb/3/25/34/
SB 10.89.51: Following the Sudarsana disc, the chariot went beyond the darkness and reached the endless spiritual light of the all pervasive brahma-jyoti. ... vedabase.net/sb/10/89/en1 - Cached
There is, however, a small chance of being promoted to a spiritual planet from the Brahman effulgence, or the brahmajyoti. This brahmajyoti is considered by ... vedabase.net/sb/4/23/15/en1
He expands Himself as Paramātmā in everyone's heart by His inconceivable energy, and He also expands Himself as the glowing effulgence of brahmajyoti by ... vedabase.net/sb/1/9/42/en3 - Cached
Even if one is promoted to the impersonal brahmajyoti, he runs every chance of ... If it is possible to fall down from the brahmajyoti, which is beyond the ... vedabase.net/sb/4/23/27/en3
And by His impersonal feature He expands the rays of the brahmajyoti, ... Part of this all-pervasive brahmajyoti, which is compared to the sun rays, ... vedabase.net/sb/2/4/14/en1
Similarly, impersonalists and monists like Astavakra have tried to establish the impersonal effulgence (brahmajyoti) as the Supreme. ... vedabase.net/tlc/21/en2 - Cached
The brahmajyoti is sanātana, eternal, yet it is dependent on Krishna (brahmano hi pratishthāham). The Brahma-samhitā states that the Lord is all-pervading. ... vedabase.net/sb/10/3/24/en3
The plant even penetrates this brahmajyoti and gradually enters the planet known as Goloka Vrndavana. There the plant takes shelter at the lotus feet of ... vedabase.net/tlc/1/en2 - Cached
... who accept bhakti as the means of merging in the existence of the Lord in His impersonalbrahmajyoti, are also awarded their desired destination. ... vedabase.net/sb/2/4/13/en - Cached
Even then, the liberation they achieve — merging into the impersonal brahmajyoti of the Lord — is only partial, and there is the risk of returning to this ... vedabase.net/bg/4/9/ - Cached
... gradually grows and grows until it penetrates the covering of the material universe and enters into the brahmajyoti effulgence in the spiritual sky. ... vedabase.net/bg/10/9/ - Cached
Those who are not purely sanctified may be attracted by different features of the Lord like the impersonal brahmajyoti and localized Paramātmā, ... vedabase.net/bg/9/34/ - Cached - Similar
Kṛṣṇa, the Supreme Personality of Godhead, is partially realized in His impersonalbrahmajyoti effulgence and as the all-pervading Supersoul dwelling within ... vedabase.net/bg/4/11/ - Cached
Illuminating all sides is His gorgeous luster, which is called the brahmajyoti. He incarnates in different forms such as Rāma, Nṛsiḿha, Varāha and Kṛṣṇa, ... vedabase.net/bg/6/47/ - Cached - Similar
Even the impersonalists fall down from the brahmajyoti. The Kṛṣṇa consciousness movement is therefore distributing sublime information to the entire human ... vedabase.net/bg/9/25/ - Cached
SB 2.3.2-7: One who desires to be absorbed in the impersonal brahmajyoti effulgence should worship the master of the Vedas [Lord Brahmā or Bṛhaspati, ... vedabase.net/sb/2/3/en - Cached
The light of the sun and the moon is also originally emanating from the brahmajyoti, which is the impersonal effulgence of the Lord. ... vedabase.net/bg/7/8/ - Cached
Māyāvādī philosophers desire to lose their individuality and merge into the impersonal spiritualbrahmajyoti existence. Lord Śiva, being very kind to the ... vedabase.net/sb/3/14/24/ - Cached
The real source of light is the brahmajyoti, which diffuses light from the transcendental body of the Lord, and the same light is reflected in varieties of ... vedabase.net/sb/2/9/34/ - Cached
... the brahmajyoti, and go farther and farther and reach the spiritual sky, where there are innumerable spiritual planets called Vaikuṇṭhalokas. ... vedabase.net/sb/2/2/30/ - Cached
===Sri Isopanisad Verse 18===
... and His impersonal brahmajyoti feature is a dazzling covering over His face. Fruitive activities, or the karma-kanda path of self-realization, ... vedabase.net/iso/18/en2 - Cached
Then He entered His own abode, the Vaikuntha planet beyond the brahmajyoti. SB 9.11.20: Lord Ramacandra's reputation for having killed Ravana with showers ... vedabase.net/sb/9/11/en1
By this liberation he does not become one with the brahmajyoti, but rather enters into the planet of the Supreme Lord. It is clearly mentioned here: mām ... en.vedabase.net/bg/9/28/
There are many worshipable objects -- the impersonalists worship the brahmajyoti , for instance -- but by worshiping objects other than Radha and Krsna, ... vedabase.net/tlc/32/en2 - Cached
Thus the personal body of the Lord is the source of the brahmajyoti, as confirmed in Bhagavad-gītā (Bg. 14.27). That the impersonal Brahman is dependent on ... vedabase.net/tlc/24/en - Cached
By devotional perfection one can understand that the impersonal brahmajyoti is only a partial representation of the Supreme Personality of Godhead, ... vedabase.net/sb/3/9/3/ - Cached
===Teachings of Queen Kunti===
This brahmajyoti is the bodily effulgence of the Supreme Personality of Godhead, ...Similarly, if we simply try to see the effulgent brahmajyoti, ... vedabase.net/tqk/25/en - Cached
Thus the personal body of the Lord is the source of the brahmajyoti, as confirmed in Bhagavad-gita (Bg. 14.27). That the impersonal Brahman is dependent on ... vedabase.net/tlc/24/en2 - Cached
SB 2.5.11: I create after the Lord's creation by His personal effulgence [known as thebrahmajyoti], just as when the sun manifests its fire, the moon, ... vedabase.net/sb/2/5/ - Cached
In a corner of the spiritual sky of brahmajyoti a spiritual cloud sometimes appears, and the covered portion is called the mahat-tattva. ... vedabase.net/sb/2/5/33/
A pure devotee does not desire promotion to heavenly planets, nor does he seek oneness with the brahmajyoti or salvation or liberation from material ... vedabase.net/bg/8/14/ - Cached
The Vaikuntha planets are all self-illuminating like the sun, and the rays of the Vaikuntha planets are called the brahmajyoti. The brahmajyoti is spread ... vedabase.net/sb/1/9/44/en3
The shining effulgence of all those planets (called Vaikuṇṭhas) constitutes the shining sky known as the brahmajyoti. Actually, the effulgence is emanating ... vedabase.net/bg/15/6/ - Cached
One who desires to be absorbed in the impersonal brahmajyoti effulgence should worship the master of the Vedas [Lord Brahmā or Bṛhaspati, ... vedabase.net/sb/2/3/2-7/ - Cached
===Nectar of Devotion===
The supreme abode of Kṛṣṇa is always throwing off the effulgence known as brahmajyoti, and that effulgence is emanating from His body. ... vedabase.net/nod/21/en
The demons and impersonalists are awarded the facility of merging in the brahmajyotieffulgence of the Lord, whereas the devotees are admitted into the ... vedabase.net/sb/3/2/24/
The conclusion is that one cannot be sure of entrance into the spiritual realm — in either the impersonal brahmajyoti effulgence of the Lord or the ... vedabase.net/sb/3/25/43/
According to the Brahma-saḿhitā these innumerable worlds rest within the brahmajyoti, or spiritual effulgence, also emanating from the Lord's body. ... vedabase.net/sb/11/9/16/
... respective planets of those demigods within the universe, but he who reaches the spiritual planets in the brahmajyoti achieves the highest perfection. ... vedabase.net/sb/2/3/8/
So the original primeval cause is vigraha, the personal, and the impersonal spiritual effulgence,brahmajyoti, is also an effect of the Supreme Brahman ... vedabase.net/sb/2/6/33/
... the impersonalist, although merging in the effulgence of the brahmajyoti, is still insecure and therefore generally falls again to this material world. ... vedabase.net/sb/8/4/13/
... there are also innumerable other planets, known as Vaikuṇṭha planets, in the spiritual sky, whereas the impersonalists remain in the brahmajyoti. ... vedabase.net/bg/8/13/ - Cached
And even in the spiritual sky he is not satisfied with merging into the glowing brahmajyotieffulgence, for he wants to enter the highest spiritual planet, ... vedabase.net/bg/11/55/ - Cached
In the Bhagavad-gītā it is said that the brahmajyoti, or the glowing transcendental effulgence, is resting on Lord Śrī Kṛṣṇa. In other words, the glowing ... vedabase.net/sb/1/8/15/
Nor should one even identify himself with the ocean of impersonal spiritual life called thebrahmajyoti, which illuminates the great outdoors of the ... vedabase.net/sb/11/2/49/ - Cached
Kṛcchreṇa: with great struggle and trouble the yogīs climb their way up into the impersonal effulgence called brahmajyoti, but again they slip out of the ... vedabase.net/sb/11/6/47/
... they become even more advanced they are liberated in the spiritual sky, either in the impersonal brahmajyoti or in the Vaikuṇṭha planets or Kṛṣṇaloka. ... vedabase.net/bg/8/28/ - Cached
One who is attached to the impersonal feature of the Supreme Lord, the brahmajyoti, is not described as mahātmā in the Bhagavad-gītā. ... vedabase.net/bg/9/14/
The personal form of the Lord is also worshiped in meditation as Supersoul, Paramātmā, but the impersonal brahmajyoti is not worshiped. ... vedabase.net/sb/3/9/4/
Brahma here indicates the particular destination selected by the yogī, namely the spiritual sky, the impersonal brahmajyoti or any other destination that ... vedabase.net/sb/11/15/24/
Śiśupāla, at the time of being killed by the Lord, could not see Him as Kṛṣṇa, being dazzled by the glare of the brahmajyoti. ... vedabase.net/sb/1/15/35/
Oneness with the impersonal brahmajyoti is not ultimate liberation; superior to that is the sublime association of the Personality of Godhead in one of the ... vedabase.net/sb/2/5/16/ - Cached
To say nothing of the karmīs, the jñānīs undergo severe austerities to attain the impersonalbrahmajyoti, but because they do not find the lotus feet of the ... vedabase.net/sb/4/24/56/ - Cached
Whenever the word brahman appears, the impersonalists take this to mean the impersonal effulgence, the brahmajyoti. Actually, however, Parabrahman ... vedabase.net/sb/4/28/38/
If one leaves the body at the time designated above, either accidentally or by arrangement, it is possible for him to attain the impersonal brahmajyoti. ... vedabase.net/bg/8/24/en1 - Cached
We can understand from Brahma-saḿhitā that the brahmajyoti, or the Brahman effulgence, emanates from the body of the Supreme Lord. ... vedabase.net/sb/10/3/15/en - Cached
One who desires to be absorbed in the impersonal brahmajyoti effulgence should worship the master of the Vedas [Lord Brahma or Brihaspati, ... vedabase.net/sb/2/3/2-7/en1
Impersonal Brahman, being formless, is described as adrisya because the impersonal effulgence of brahmajyoti covers the face of the Supreme Lord. ... vedabase.net/sb/3/32/26/en1
His brilliantly glowing body is the source of the all-pervading brahmajyoti, the immeasurable spiritual light that is the resting place of innumerable ... vedabase.net/sb/11/2/27/en1
Kricchrena: with great struggle and trouble the yogis climb their way up into the impersonal effulgence called brahmajyoti, but again they slip out of the ... vedabase.net/sb/11/6/47/en1
The material universe rests on the spiritual potency of the Lord called brahmajyoti, just as an insignificant bubble rests on the potency of the unlimited ... vedabase.net/sb/11/3/23/ - Cached
They want to merge into the existence of the Supreme Lord in His Brahman feature (thebrahmajyoti). The devotees, however, desire to take part in the ... vedabase.net/sb/5/17/3/en1
Impersonal Brahman, being formless, is described as adriśya because the impersonal effulgence of brahmajyoti covers the face of the Supreme Lord. ... vedabase.net/sb/3/32/26/en3
... engaged in the transcendental loving service of the Lord never accept the sayujya-mukti, or merging in the rays of the Lord called the brahmajyoti. ... vedabase.net/sb/3/4/15/en2
For some time, the effulgence remained outside the demon's body, individually, and did not mix with the whole effulgence, the brahmajyoti. ... vedabase.net/sb/10/12/33/en1
There are four dhamas, or kingdoms of God, which represent the planets of the spiritual sky, which consists of the brahmajyoti and the Vaikunthas. ... vedabase.net/sb/3/4/22/en1
... as parts and parcels of the Supreme Lord, are also of the same quality, since the Lord also diffuses His bodily glare, known as brahmajyoti. ... vedabase.net/sb/3/20/16/en3
We can understand from Brahma-samhita that the brahmajyoti, or the Brahman effulgence, emanates from the body of the Supreme Lord. ... vedabase.net/sb/10/3/15-17/en2
Krishna, the Supreme Personality of Godhead, is partially realized in His impersonalbrahmajyoti effulgence and as the all-pervading Supersoul dwelling ... vedabase.net/bg/4/11/en3 - Cached
This and innumerable other Vaikuntha planets float in an infinite ocean of spiritual light called the brahmajyoti. That spiritual light is in fact the ... vedabase.net/sb/10/28/15/en1
To say nothing of the karmis, the jnanis undergo severe austerities to attain the impersonalbrahmajyoti, but because they do not find the lotus feet of the ... vedabase.net/sb/4/24/56/en2
... indicates knowledge of the Supreme Personality of Godhead along with His various expansions such as the impersonal brahmajyoti and the marginal living ... vedabase.net/sb/11/3/40/en2
... who gives more importance to the transcendental rays of the Lord as brahmajyoti and who concludes that the Absolute Truth is ultimately impersonal and ... vedabase.net/sb/2/5/20/en3
Such monists merge within the personal effulgence of the Lord called the brahmajyoti, but the devotees enter into the transcendental pastimes of the Lord , ... vedabase.net/sb/1/8/27/en2 - Cached
... by the omnipresent rays of His effulgence, called brahmajyoti, is all- pervading inside or outside of everything, like the omnipresent material sky, ... vedabase.net/sb/1/16/29/en1 - Cached
Kaśyapa Muni meditated on the impersonal brahmajyoti by chanting the Gāyatrī mantra within his mouth. When a Vedic mantra is chanted within the mouth so ... vedabase.net/sb/3/14/32/en3
In the Bhagavad-gītā it is said that the brahmajyoti, or the glowing transcendental effulgence, is resting on Lord Śrī Krishna. In other words, the glowing ... vedabase.net/sb/1/8/15/en3 - Cached
... iha — here; jyotih — the brahmajyoti, the effulgence of the Supreme Lord; śivah — auspicious; panthāh — way; pradarśitah — is directed; yān — to whom; ... vedabase.net/sb/9/18/12-14/en3
The unlimited extension of spiritual light, called the brahmajyoti in Text 15, is compared to a lake called Brahma-hrada. Lord Krishna submerged the cowherd ... vedabase.net/sb/10/28/16/en1
In this verse, special stress is given to the person of the Supreme Lord, and not to His impersonal brahmajyoti, as being the source of all supplies. ... vedabase.net/sb/2/6/27/en1 - Cached
From Him, in His abode, the Vaikunthas, this brahmajyoti emanates. He is never impersonal. Since impersonalists cannot understand the source of the Brahman ... vedabase.net/cc/adi/1/53/en3 - Cached
Krcchrena: with great struggle and trouble the yogis climb their way up into the impersonal effulgence called brahmajyoti, but again they slip out of the ... vedabase.net/sb/11/6/47/en2
Brahma here indicates the particular destination selected by the yogi, namely the spiritual sky, the impersonal brahmajyoti or any other destination that ... vedabase.net/sb/11/15/24/en2 - Cached
Both achieve the salvation of merging in the brahmajyoti rays of the transcendental body of the Lord. The Lord was merciful even to His enemy, ... vedabase.net/sb/3/2/19/en3
We can understand from Brahma-samhitā that the brahmajyoti, or the Brahman effulgence, emanates from the body of the Supreme Lord. ... vedabase.net/sb/10/3/15-17/en3
===Sanskrit: adarsanam===
adarśanam — impersonal merging within the brahmajyoti; SB 2.7.34-35 adarśanam — sometimes not visible; SB 8.10.16-18 adarśanam — the invisibility ... vedabase.net/a/adarsanam
Vāsudeva is the original cause of the brahmajyoti, and the brahmajyoti is the expansion of the rays of the body of Vāsudeva. ... vedabase.net/sb/5/11/13-14/ - Cached
The brahmajyoti is the covering of the internal potency. May You kindly remove this glowing effulgence that impedes my seeing Your sac-cid-ānanda-vigraha ... vedabase.net/bg/7/25/
In the brahmajyoti there are unlimited Vaikuṇṭha planets, which are spiritual and therefore self-luminous, with a glow many times greater than that of the ... vedabase.net/cc/adi/5/14/ - Cached
brahmanah -- of the impersonal brahmajyoti; hi -- certainly; pratishtha -- the rest; aham -- I am; amritasya -- of the immortal; avyayasya -- of the ... vedabase.net/bg/14/27/en1 - Cached
The brahmajyoti is sanātana, eternal, yet it is dependent on Kṛṣṇa (brahmaṇo hi pratiṣṭhāham). The Brahma-saḿhitā states that the Lord is all-pervading. ... vedabase.net/sb/10/3/24/ - Cached
Impersonal brahmajyoti or localized Paramātmā realization is not perfect knowledge of the Absolute Truth, because it is partial. ... vedabase.net/bg/7/1/ - Cached
Similarly, because the impersonalists who reach the paraḿ padam of the impersonalbrahmajyoti do not enter into the Vaikuṇṭha planets, they come down again ... vedabase.net/sb/4/21/7/ - Cached
"I serve the Supreme Personality of Godhead, Govinda, the primeval Lord, the effulgence of whose transcendental body is known as the brahmajyoti. ... vedabase.net/cc/madhya/6/81/ - Cached
The universal form of the Lord, or the impersonal feature of the Lord known as thebrahmajyoti, is clearly explained here and compared to the radiation of ... vedabase.net/sb/2/6/17/ - Cached
Vasudeva is the original cause of the brahmajyoti, and the brahmajyoti is the expansion of the rays of the body of Vasudeva. ... vedabase.net/sb/5/11/13-14/en1 - Cached
===Sri Isopanisad Verse 12===
Outside the universe is the vast and unlimited brahmajyoti expansion, which is filled ... The biggest and highest planet in the brahmajyoti is Krsnaloka, ... vedabase.net/iso/12/en2 - Cached
===Sri Isopanisad Verse 12===
Outside the universe is the vast and unlimited brahmajyoti expansion, which is filled ... The biggest and highest planet in the brahmajyoti is Krishnaloka, ... vedabase.net/iso/12/en3 - Cached
Similarly, because the impersonalists who reach the param padam of the impersonalbrahmajyoti do not enter into the Vaikuntha planets, they come down again ... vedabase.net/sb/4/21/7/en1
The brahmajyoti is the covering of the internal potency. May You kindly remove this glowing effulgence that impedes my seeing Your sac-cid-ananda-vigraha ... vedabase.net/bg/7/25/en2 - Cached
The brahmajyoti is sanatana, eternal, yet it is dependent on Krsna (brahmano hi pratisthaham). The Brahma-samhita states that the Lord is all-pervading. ... vedabase.net/sb/10/3/24/en2 - Cached
===Nectar of Devotion===
For a person who simply wants to have liberation and to merge into the impersonalbrahmajyoti, attachment to Kṛṣṇa is not possible to acquire. ... vedabase.net/nod/18/en - Cached
The plant even penetrates this brahmajyoti and gradually enters the planet known as Goloka Vṛndāvana. There the plant takes shelter at the lotus feet of ... vedabase.net/tlc/1/en - Cached
===Nectar of Devotion===
For a person who simply wants to have liberation and to merge into the impersonalbrahmajyoti, attachment to Krishna is not possible to acquire. ... vedabase.net/nod/18/en1 - Cached
===Nectar of Devotion===
For a person who simply wants to have liberation and to merge into the impersonalbrahmajyoti, attachment to Krsna is not possible to acquire. ... vedabase.net/nod/18/en2 - Cached
The brahmajyoti emanates from the supreme abode, Kṛṣṇaloka, .... Therefore at the end of life the transcendentalists think either of the brahmajyoti, ... vedabase.net/bg/introduction/en - Cached
The brahmajyoti emanates from the supreme abode, Krsnaloka, and the ananda-maya, cin-maya planets, which are not material, float in those rays. ... vedabase.net/bg/introduction/en2 - Cached
CC Madhya 14.225: "The water in Vrindavana is nectar, and the brahmajyoti effulgence, which is full of transcendental bliss, is directly perceived there in ... vedabase.net/cc/madhya/14/en1 - Cached
In the material world that brahmajyoti, the Lord's spiritual effulgence, is covered by the mahat-tattva, the material elements; therefore in this material ... vedabase.net/bg/13/18/en - Cached
There are many worshipable objects — the impersonalists worship the brahmajyoti, for instance — but by worshiping objects other than Rādhā and Kṛṣṇa, ... vedabase.net/tlc/32/en - Cached
There are many worshipable objects -- the impersonalists worship the brahmajyoti , for instance -- but by worshiping objects other than Radha and Krishna, ... vedabase.net/tlc/32/en1 - Cached
Because they do not know anything beyond their misconception of the brahmajyoti, they cannot understand that Kṛṣṇa, the Supreme Personality of Godhead, ... vedabase.net/cc/adi/7/29-30/
===Sanskrit: brahmanah===
brahmaṇaḥ — of the impersonal brahmajyoti; BG 14.27 brahmaṇaḥ — of the Supreme; BG 17.23 brāhmaṇāḥ — the brāhmaṇas; BG 17.23 brāhmaṇaḥ — a brāhmaṇa; SB 1.7. ... vedabase.net/b/brahmanah - Cached
The Lord, by His unlimited causeless mercy, has innumerable Vaikuṇṭha planets in thebrahmajyoti sphere of the spiritual world, and in that transcendental ... vedabase.net/sb/3/2/11/ - Cached
Those who are not purely sanctified may be attracted by different features of the Lord like the impersonal brahmajyoti and localized Paramatma, ... vedabase.net/bg/9/34/en1 - Cached
If one is puffed up with the idea that he is the Supreme Brahman, or that he has become one with Nārāyaṇa, or that he has merged into the brahmajyoti ... vedabase.net/nbs/2/ - Cached
This and innumerable other Vaikuṇṭha planets float in an infinite ocean of spiritual light called the brahmajyoti. That spiritual light is in fact the ... vedabase.net/sb/10/28/15/ - Cached
One who is attached to the impersonal feature of the Supreme Lord, the brahmajyoti, is not described as mahatma in the Bhagavad-gita. ... vedabase.net/bg/9/14/en1
Illuminating all sides is His gorgeous luster, which is called the brahmajyoti. He incarnates in different forms such as Rama, Nrisimha, Varaha and Krishna, ... vedabase.net/bg/6/47/en1 - Cached
The shining effulgence of all those planets (called Vaikunthas) constitutes the shining sky known as the brahmajyoti. Actually, the effulgence is emanating ... vedabase.net/bg/15/6/en1 - Cached
The Vaikuṇṭhalokas are variegated spiritual planets situated in the Lord's impersonal bodily effulgence, known as the brahmajyoti. One may aspire to elevate ... vedabase.net/cc/madhya/6/230/ - Cached
... so also the unlimited Lord is unaffected by the spot of material energy manifested at times in the unlimited span of the Lord's rays of brahmajyoti. ... vedabase.net/sb/2/5/18/ - Cached
In spite of his strenuous efforts to attain perfect knowledge, the impersonalist attains merging into the impersonal oneness of the brahmajyoti of the Lord, ... vedabase.net/sb/3/5/46/ - Cached
There are four dhāmas, or kingdoms of God, which represent the planets of the spiritual sky, which consists of the brahmajyoti and the Vaikuṇṭhas. ... vedabase.net/sb/3/4/22/en
The real sky is the spiritual sky, eternally filled with the rays of the brahmajyoti, and a portion of this unlimited sky is covered by the mahat-tattva ... vedabase.net/sb/2/5/21/ - Cached
... other people from Krishna and transfer all devotion to the impersonal brahmajyoti. They prefer to meditate on the impersonal form of the Absolute Truth, ... vedabase.net/bg/12/1/en1 - Cached
By this liberation he does not become one with the brahmajyoti, but rather enters into the planet of the Supreme Lord. It is clearly mentioned here: mam ... vedabase.net/bg/9/28/en1 - Cached
... there are also innumerable other planets, known as Vaikuntha planets, in the spiritual sky, whereas the impersonalists remain in the brahmajyoti. ... vedabase.net/bg/8/13/en2 - Cached
===Nectar of Devotion===
The supreme abode of Krishna is always throwing off the effulgence known as brahmajyoti, and that effulgence is emanating from His body. ... vedabase.net/nod/21/en1 - Cached
Even the impersonalists fall down from the brahmajyoti. The Krsna consciousness movement is therefore distributing sublime information to the entire human ... vedabase.net/bg/9/25/en2 - Cached
Illuminating all sides is His gorgeous luster, which is called the brahmajyoti. He incarnates in different forms such as Rama, Nrsimha, Varaha and Krsna, ... vedabase.net/bg/6/47/en2 - Cached
"The Supersoul coming out of the body enters the impersonal brahmajyoti; then in His form He remains in His spiritual identity. That Supreme is called the ... vedabase.net/bg/15/18/en1 - Cached
"Others" refers to the jnanis and the yogis, whose only hope is to merge into the existence of the impersonal brahmajyoti. Although their destination is not ... vedabase.net/sb/3/5/47/en2 - Cached
Even the impersonalists fall down from the brahmajyoti. The Krishna consciousness movement is therefore distributing sublime information to the entire human ... vedabase.net/bg/9/25/en3 - Cached
===Nectar of Devotion===
The supreme abode of Krsna is always throwing off the effulgence known as brahmajyoti, and that effulgence is emanating from His body. ... vedabase.net/nod/21/en2 - Cached
Sisupala, at the time of being killed by the Lord, could not see Him as Krishna, being dazzled by the glare of the brahmajyoti. ... vedabase.net/sb/1/15/35/en1
... therefore even though they practice austerities for self-realization, they cannot remain within the impersonal brahmajyoti. Consequently, they fall down ... vedabase.net/cc/madhya/6/168/en1 - Cached
All the universes are resting on the brahmajyoti, and all the planets are resting on the universal atmosphere. In each and every planet there are oceans, ... vedabase.net/sb/5/12/10/en2 - Cached
The personal form of the Lord is also worshiped in meditation as Supersoul, Paramatma, but the impersonal brahmajyoti is not worshiped. ... vedabase.net/sb/3/9/4/en1 - Cached
Illuminating all sides is His gorgeous luster, which is called the brahmajyoti. He incarnates in different forms such as Rāma, Nrisimha, Varāha and Krishna, ... vedabase.net/bg/6/47/en3 - Cached
According to the Brahma-samhita these innumerable worlds rest within the brahmajyoti, or spiritual effulgence, also emanating from the Lord's body. ... vedabase.net/sb/11/9/16/en2 - Cached
... ye -- those who (are); dharyate -- is always born; yaih -- by which persons; iha -- here; jyotih -- the brahmajyoti, the effulgence of the Supreme Lord; ... vedabase.net/sb/9/18/12-14/en2 - Cached
One who desires to be absorbed in the impersonal brahmajyoti effulgence should worship the master of the Vedas [Lord Brahmā or Brihaspati, ... vedabase.net/sb/2/3/2-7/en3 - Cached
Just to be in touch with Him is to be in contact with the indestructible brahmajyoti." (3) From the Mundaka Upanishad (3.1.3): ... vedabase.net/cc/adi/2/22/en3 - Cached
... engaged in the transcendental loving service of the Lord never accept the sāyujya-mukti, or merging in the rays of the Lord called the brahmajyoti. ... vedabase.net/sb/3/4/15/en3 - Cached
... whereas the impersonalist meditates upon the glaring effulgence, or the bodily rays of the Lord, known as the brahmajyoti. Here in this verse it is said ... vedabase.net/sb/1/18/16/en3 - Cached
Kasyapa Muni meditated on the impersonal brahmajyoti by chanting the Gayatri mantra within his mouth. When a Vedic mantra is chanted within the mouth so ... vedabase.net/sb/3/14/32/en1 - Cached
The Vaikunthalokas are variegated spiritual planets situated in the Lord's impersonal bodily effulgence, known as the brahmajyoti. One may aspire to elevate ... vedabase.net/cc/madhya/6/230/en1 - Cached
Śiśupāla, at the time of being killed by the Lord, could not see Him as Krishna, being dazzled by the glare of the brahmajyoti. ... vedabase.net/sb/1/15/35/en3 - Cached
===Teachings of Queen Kunti===
Of course, the object of the impersonalist is the brahmajyoti, the impersonal effulgence of the Supreme, but Krsna is the source of that effulgence. ... vedabase.net/tqk/13/en2 - Cached
... the brahmajyoti, and go farther and farther and reach the spiritual sky, where there are innumerable spiritual planets called Vaikunthalokas. ... vedabase.net/sb/2/2/30/en3 - Cached
Mayavadi philosophers desire to lose their individuality and merge into the impersonal spiritualbrahmajyoti existence. Lord Siva, being very kind to the ... vedabase.net/sb/3/14/24/en1 - Cached
Because they do not know anything beyond their misconception of the brahmajyoti, they cannot understand that Krishna, the Supreme Personality of Godhead, ... vedabase.net/cc/adi/7/29-30/en1 - Cached
===Teachings of Queen Kunti===
Of course, the object of the impersonalist is the brahmajyoti, the impersonal effulgence of the Supreme, but Krishna is the source of that effulgence. ... vedabase.net/tqk/13/en3 - Cached
CC Madhya 14.225: "The water in Vṛndāvana is nectar, and the brahmajyoti effulgence, which is full of transcendental bliss, is directly perceived there in ... vedabase.net/cc/madhya/14/en - Cached
CC Madhya 14.225: "The water in Vrindāvana is nectar, and the brahmajyoti effulgence, which is full of transcendental bliss, is directly perceived there in ... vedabase.net/cc/madhya/14/en3 - Cached
CC Madhya 14.225: "The water in Vrndavana is nectar, and the brahmajyoti effulgence, which is full of transcendental bliss, is directly perceived there in ... vedabase.net/cc/madhya/14/en2 - Cached
Bhaktivedanta VedaBase: Śrī Īśopaniṣad Invocation. oḿ pūrṇam adaḥ pūrṇam idaḿ · pūrṇāt pūrṇam udacyate · pūrṇasya pūrṇam ādāya · pūrṇam evāvaśiṣyate ... vedabase.net/iso/invocation/ - Cached